Buck Up, Battle Buddy! This Soldier Misses Afghanistan So Much He's Been Crying Ever Since He Got Back
Move over, London and Paris, because it looks like there's a new must-see travel hotspot for 2015, and it's Jalalabad, Afghanistan!
Never heard of Jalalabad? (Don't worry, neither have most other Americans.)
Peretz Partensky from San Francisco, USA - From the Water Tower of Public HospitalUploaded by russavia. Licensed under CC BY-SA 2.0 via Wikimedia Commons.
But that doesn't matter. Because, based on how much 29-year-old Army Staff Sgt. Kyle Hanover has been missing this Nangarhar province capital since returning home to Denver last Friday, it looks like Jalalabad might be one of the most "Jalala-BADASS" cities to visit throughout the entire Middle East!
In fact, Hanover misses Jalalabad so much that he's been crying himself to sleep every night since he got back from his nine month deployment!
Afghanistan must be awesome!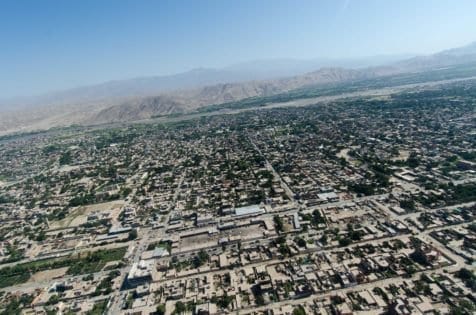 And if all the weeping isn't enough proof for you that Hanover definitely regrets having had to come home, he's also been showing every other tell-tale symbol of having the "miss you blues" when it comes to his beloved Jalalabad:
From difficulty sleeping, to a lack of appetite, to dreaming non-stop about all the great memories of Afghanistan he formed while overseas, it appears there's really no question that if Jalalabad were a woman, Kyle Hanover would have popped the question and put a ring on that city months ago!
Also, for all of you who are bummed at the thought of Hanover never getting a chance to see Afghanistan again, this story has a happy ending:
See, it turns out that even though this last deployment makes it the fifth time Hanover has been to Afghanistan since the U.S. first invaded that country, our lovelorn Staff Seargent just got orders to go back for a sixth trip next year!
US Navy Photo
How lucky is that?!
So, it looks like everything will turn out just fine for Staff Sgt. Kyle Hanover.
And here's to hoping that, during his next deployment, he isn't forced to "leave his heart in Jalalabad" (along with four pints of blood, like he did during that epic firefight last November).
We salute you, Staff Sgt. Hanover, and thank you for your service! :)