Congress deadlocked over bill to force armory to accept our goddamn rifles
WASHINGTON — Following a bitter all-night debate, Congress has officially deadlocked over two competing bills which would force the armory to finally accept our goddamn rifles.
Senate Republicans have said there are too many differences between their bill, "The Clean AR Act" and House Democrats' version, known as "Black Chevrons Matter."
Sen. Dan Sullivan (R—AK) highlighted that the House Democratic bill would only force the armory to take our goddamn rifles, and not our goddamn pistols, our goddamn shotguns, our goddamn 203 grenade launchers, or our goddamn crew-served weapons.
Sullivan added that this debate shouldn't just be about rifles, but about all weapons.
"Do Democrats really believe that we're going on libbo the moment the armory takes their rifles?" Sullivan asked. "The XO said 'Clean everything!' I haven't seen Weapons Company here all day long, and those .50-cals look like fucking shit."
Sen. Todd Young (R—IN) has additionally denounced Democrats as playing politics with our weapons readiness and only wanting to go back to their room and play XBox, which is where the battalion sergeant major caught them earlier this morning.
Rep. Jared Golden (D—ME) said that Democrats would be open to further legislation at a later time, but added, "The immediate problem is the armory not accepting our rifles which we spent the last three fucking hours cleaning. I just want to just go take a shit and rub one out. I fucking hate my life."
Rep. Seth Moulton (D—MA) added that, "Anyone turning in a pistol is probably a POG or a fucking officer. Our bill isn't about that. Our bill is about getting grunts the fuck outta here before First Sergeant puts us on a working party."
Moulton also denied Young's charge that Democrats had been fucking off in the barracks, and said they had been studying squad rush tactics in Avengers: Endgame.
President Donald Trump had been mostly silent on the bill, and sources believe he has been skating at the E-Club. This morning he went on Twitter to denounce the Democrats' bill and refute claims that his rifle was fucking disgusting.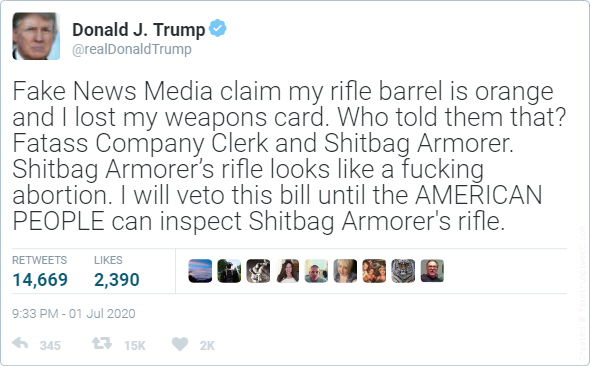 "Fake News Media claim my rifle barrel is orange and I lost my weapons card. Who told them that? Fatass Company Clerk and Shitbag Armorer. Shitbag Armorer's rifle looks like a fucking abortion. I will veto this bill until the AMERICAN PEOPLE can inspect Shitbag Armorer's rifle."
Golden said that everyone knows Trump's rifle is really cleaned by Rep. Greg Pence (R—IN) and is dirty because Pence has been on dental SIQ all week.
Former Vice President Joe Biden's campaign released a prepared statement saying, "The problem of the armory not taking our rifles and us being stuck in the fucking-ass hot sun is a very serious one, and I look forward to addressing it when I am President."
Republicans responded that Biden has never even checked out his rifle and just hides in the BAS truck during field ops.