Trump rails against US Cyber Command after cyberattack on Russia deletes half his Twitter followers
FORT MEADE, Md. — President Donald Trump is furious after a US Cyber Command offensive cyber operation deleted more than half his Twitter followers, sources confirmed today.
The operation, dubbed Cheeto Fury, targeted the Internet Research Agency, a Russian "troll farm" based in St. Petersburg known for operating fake bot Twitter accounts, among other ways it tries to influence public opinion.
Trump had more than 70 million Twitter followers last week, but the operation brought that number down considerably to roughly 35 million. Of Trump's remaining Twitter followers, 31 million follow only the @realDonaldTrump account, and more than 28 million have not tweeted in the last year.
Interestingly, the cyberattack against the Internet Research Agency was ordered by Trump, after intelligence revealed the company had been attempting to spread rumors of a terrorist attack on a small American city. Just days after the attack, however, Trump responded angrily toward what he called the "failing US Cyber Command."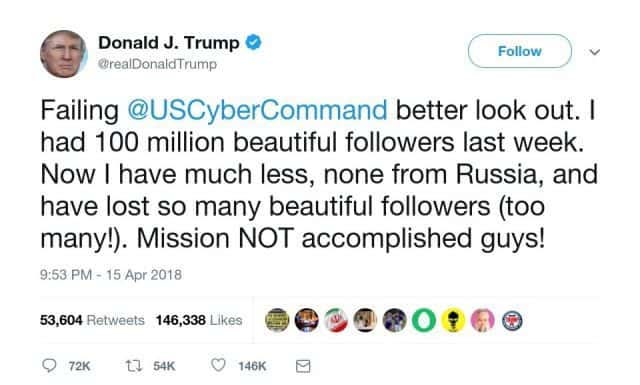 White House spokeswoman Sarah Huckabee Sanders said in a press briefing that the Trump would administration would be launching an investigation into the matter, and look into "claims that Cyber Command may be working for Crooked Hillary."
Duffel Blog freelancer Luke J. Buschlight contributed to this report from Moscow.