Space Force 'Ark' nothing to be concerned about, commander tweets from orbit
WASHINGTON — A recent tweet from the commander of a program dubbed "The Ark" has increased national concerns over the project nobody outside the Department of Defense had ever heard of before.
The tweet in question came from the account of Capt. Noah Richardson, and it includes a photograph, which appears to have been taken from orbit.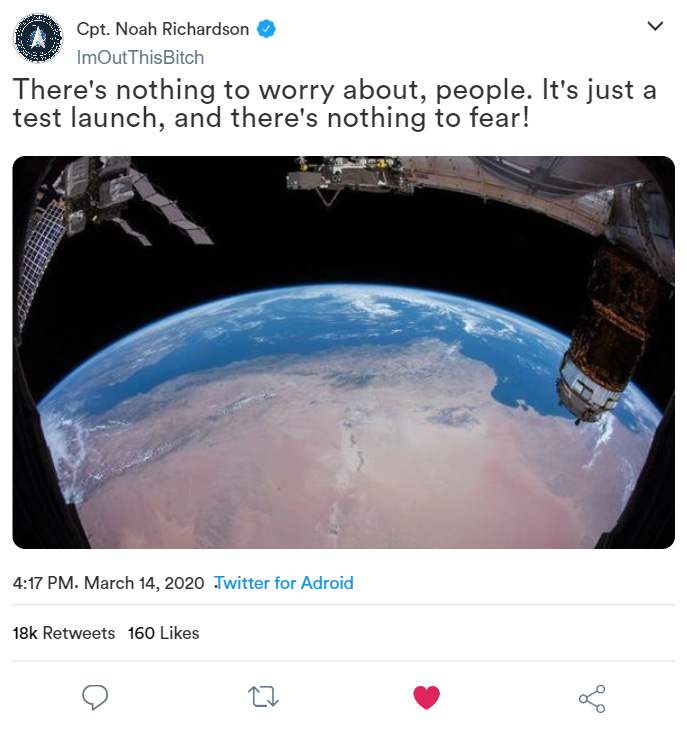 News of the tweet raised some alarm among members of the United States Government who noticed several of their colleagues hadn't shown up for work.
"I don't know what to think," said Rep. Greg Murphy of North Carolina, who serves on the U.S. House Committee on Science, Space, and Technology. "I knew about the project, for sure, but when I looked across the table today and saw nobody from the Majority, I got worried."
The absence of the House Majority members is troublesome, but General John W. Raymond, Chief of Space Operations, ensured Congress that there truly was nothing to worry about. Unfortunately, he also sent this information via tweet, so he could not be reached for a follow-up comment, and nobody has seen him for the past few days.
Meanwhile, more than 200 of the most attractive members of the U.S. Space Force have also been reported missing, as have a large number of farm animals that were being maintained on Fort Belvoir, Virginia, for some unknown reason.
Public interest in the Space Force grew exponentially, and the tweet is going viral at the same time the Coronavirus is wreaking havoc across the globe. "Why did they choose to launch this so-called 'Ark' now," asked a senior Pentagon official who asked to remain anonymous. "All this confusion is causing a panic, and the President is nowhere to be seen."
The White House has remained silent regarding the whereabouts of the President, his daughter, wife, and their young son. Other high-ranking officials weren't available for comment either, though the President's sons, Don Jr. and Eric, were seen wandering the streets of Manhattan asking random passers-by if they knew where their father was.