The DB interview: White House Press Secretary clarifies U.S. involvement in Iraq
WASHINGTON — Reporter Kate C sat down for an exclusive interview with White House Press Secretary Joshua Earnest to get straight answers on U.S. involvement in Iraq.
Kate C: Thank you for sitting down with us today, Press Secretary Joshua Earnest.
Joshua Ernest: Please, call me Press Secretary Josh Earnest.
KC: Sure thing, Press Secretary Josh Earnest. Three U.S. troops have died in Iraq since 2014, the most recent being Navy SEAL Charles Keating IV in a firefight.
PSJE: Yes, terrible news for us here. Oh, and for everyone of course.
KC: But at Tuesday's press conference you said U.S. troops "do not have a combat mission" in Iraq. Could you clarify "combat mission?"
PSJE: Excellent question. You'll notice I use "quotation marks" a lot with my "hands" for this interview, but don't pay too much "attention" to that.
KC: Got it. So the mission —
PSJE: You have to understand that "combat" and "mission" are just two words from a dictionary. What do they "really" mean? What are words even? Hard to say.
KC: Perhaps I should rephrase. It's documented that our troops are coming under fire in Iraq. You said, "the relatively small number of U.S. service members that are involved in these operations are not in combat but are in a dangerous place." What is the White House's definition of "combat?"
PSJE: I like your use of "hand quotes" at the end there. See how it really looks like quotation "marks"?
KC: The definition of combat —
PSJE: My hands have been tied — I mean dry — lately so I use Aveeno "Active Naturals" in "Lavender."
KC: Um, ok. Let's move on to the number of "boots on the ground" in Iraq. President Obama announced a troop cap of 3,870 and this April it was raised to 4,087, but there are an estimated 5,000 there now, not including contractors.
PSJE: I've actually been working on a "flow chart" for this one.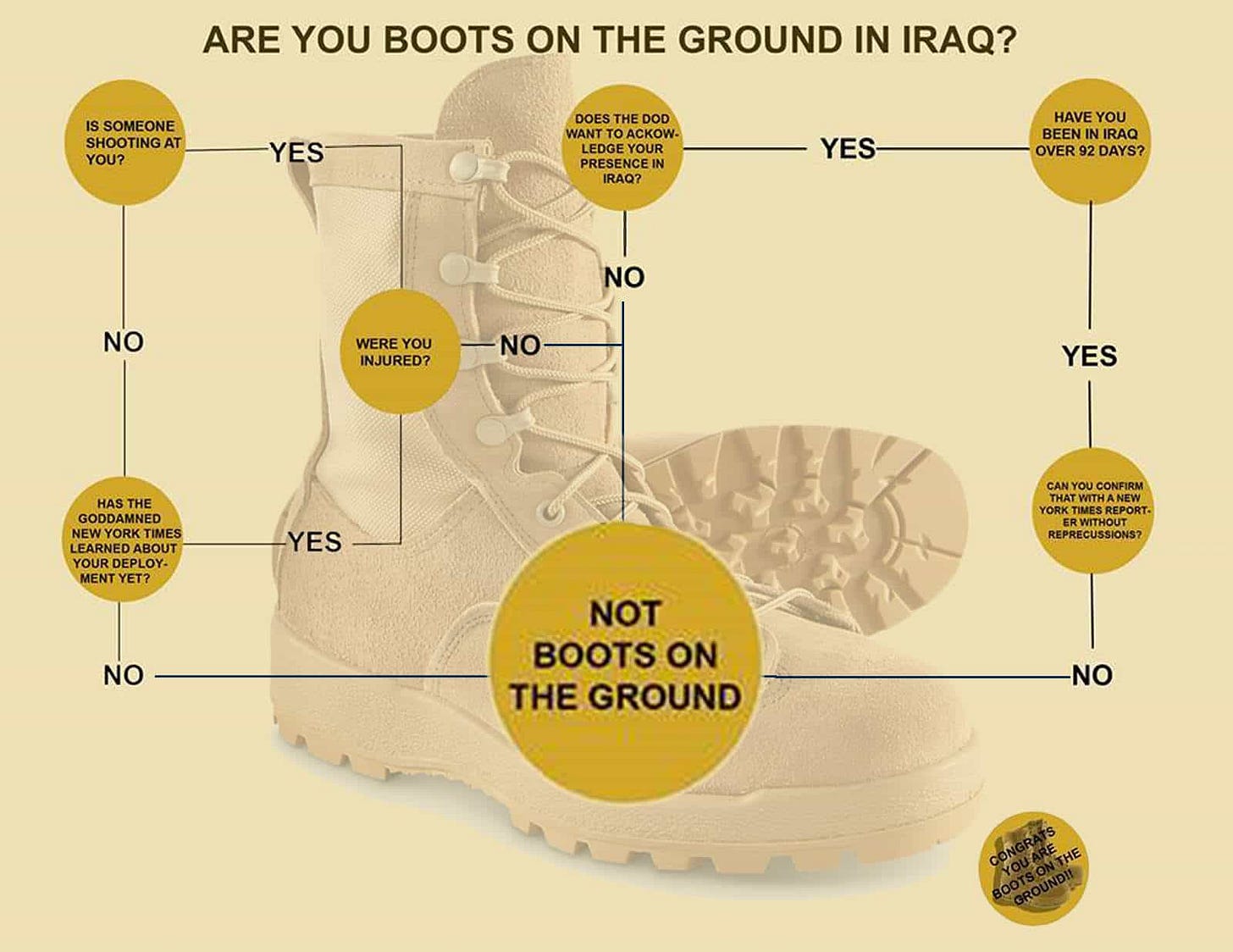 KC: I'm not sure you're supposed to be showing anyone that.
PSJE: Look, it's better to keep things murky until a major "news" paper makes a fuss about it. Discretion keeps our troops "safe" and the "enemy" on their "toes". You want our troops "safe" don't you?
KC: I'm not sure what's happening right now, and I am actually more confused about U.S. involvement in Iraq than before this interview started. But thank you for your time?